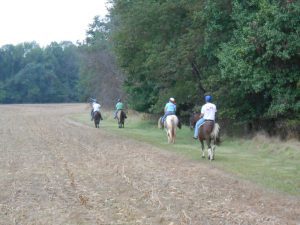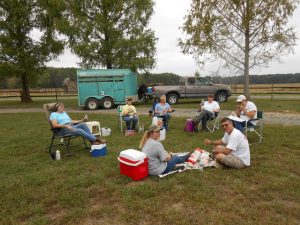 Trail Description: Jug Bay Natural Area is the headquarters for the Patuxent River Park properties. This 2,000 acre tract of land is comprised of various natural habitats that buffer the Patuxent River and provide a critical link in conserving the area's natural resources.
The park offers a wide range of amenities for the public. There are more than eight miles of scenic woodland trails for hikers, bicyclists and horseback riders. The park provides facilities for primitive tent camping and day-use picnics. There are two fishing areas at Jug Bay that offer good tidal fishing year-round. Jug Bay has two standard boat ramps, but no overnight tie-ups or fuel facilities. Hunting is permitted in the park. An upland area for squirrel and rabbit is open to licensed hunters. In addition, a number of waterfowl blind sites are leased on a seasonal basis. Jug Bay is excellent to explore by canoe or kayak. The park offers guided trips, as well as daily and hourly canoe and kayak rentals.
Jug Bay is one of the most important freshwater tidal estuaries in the Chesapeake Bay region. The Commission works cooperatively with federal, state and local agencies, and conservation organizations to ensure the Patuxent River remains one of Maryland's premiere river greenways. Jug Bay Natural Area is a component of the Chesapeake Bay National Estuarine Research Reserve in Maryland, a nationwide network of diverse coastal estuaries that serve as laboratories for scientific research, education and monitoring. The park is also a site on the Chesapeake Bay Gateways Network, a partnership of parks, refuges, museums, historical communities and trails where visitors can experience and learn about the Chesapeake Bay. Jug Bay has been designated an "Important Birding Area" by the National Audubon Society.
Trail Location: 16000 Croom Airport Rd Upper Marlboro, MD
Trail Length: 8+ miles
Counties: Prince George's
Trail Surface(s): Natural
Parking and Trail Access: Follow directions to the boat launching area, there is a parking lot big enough for horse trailers (no, you don't have to back up). Trails are marked, and there is a map available, but I have not found who has it. (If anyone does, please contact me!) Most trails are sand and dirt, but there is road riding and some rocky areas. This is a dog park as well, so you may run into trainers birding their dogs. This park is excellent for winter and wet riding, you may have some mud, but it gets low horse traffic, and the soil seems to drain very well.
Seasonal Restrictions: Check Website
Reviews and Tips: Multiple possible loops, good footing with a few gravel areas.
Amenities: Port a potties at the boat ramp.